The Edgware Kickback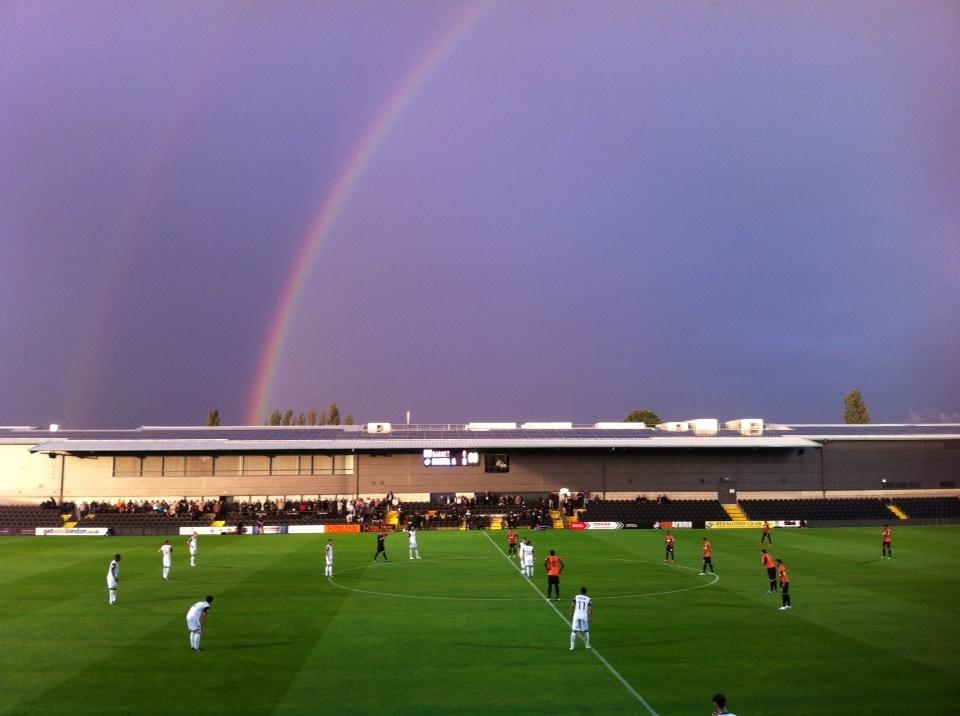 One evening in the middle of August, we found ourselves traipsing up to Barnet FC to watch some fifth division football. As you do. But as the stadium drew into view, the Bees' adopted Edgware home suddenly became the epicentre of an umbrella-ravaging, rat-drowning, pop-apocalyptic summer storm. As the soaked-through matchday programme crumbled in my fingers, the stewards gently mocked our hangdog demeanour, and I emptied pools of dirty rainwater from my pockets, we braced ourselves for two long hours of standing on the away terrace in wet-through clothes and disillusionment. Forlorn and miserable, we cursed having gone out at all.
And yet… and yet… only half an hour later, fortified by a pre-match supper of a round of necked lagers, and by the life-giving bounce of the then newly-minted tracks #2 and #3 from the list below, we gazed in awe from that same terrace as a gorgeous rainbow looped up from the far corner of the ground, and even as the rain continued to pile down, and the 22 journeymen before us meandered and trotted in rangy diagonals across the sodden turf, that rainbow hung wondrously from that darkening, electric sky as if to say… forget the sludge, the slurry, the schlock… EVERYTHING IS GOING TO BE ALRIGHT. You know, just like Keris promised. For a few regal minutes – before Barnet inevitably scored, and the relevant deity hastily withdrew said rainbow - there was peace, serenity and *beauty* within our humble demesne. ("
If the sun going down / Can make me cry…
")
In our day-to-day lives, we can't conjure that rainbow out of nothing, we can't sit back and rely on such magic moments simply trickling down uninvited through unlikely cracks in the sky. But yet we still have this… this insanely irresistible music thing, at our fingertips… an infinite spring for our still-unquenchable thirst. Sometimes it's moving or mournful; sometimes it provides succour and a safety blanket; sometimes it's a vivid burst of freshness and excitement, just the spark we need; always, it's a blessed relief from the world that whirls around us, a world of celebrity chatter, populist poison, ephemeral e-nonsense, self-absorbed short-termism and general gurning idiocy.
Albums of the year:
here
. Our favourite gigs:
here
. Reissues and compilations:
here
. As for singles...
* * * * *
1. Close Lobsters "Kunstwerk In Spacetime EP" (Shelflife)
They survived the unforgiving glare of C86, and their two reissued albums ("Foxheads Stalk This Land" and "Headache Rhetoric") are rightly feted. But for us it was Close Lobsters' singles that best displayed the Paisley quintet's qualities: we so treasure the run of 12"s that includes "Going To Heaven To See If It Rains", "Never Seen Before", "Let's Make Some Plans" and "Loopholes" (even, we would add, their Janice Long session EP). So could their comeback 45 meet high expectations?
It could. This is one of those EPs that only has two tracks (at least on the 7": there are some nostalgically pointless remixes floating around in the ether, too), but the 'A-side' is "Now Time", and it's a sparkling single if ever there was one, a spark of 'Scottish Electric Lightning' if you like, that's recognisable as the Lobsters of yore yet adds up to so much more than being a mere carbon of those earlier single platters. As we recall, Andrew Burnett went back and forth on Scottish nationalism in music paper interviews in the 1980s, but to us this song was more than a plea to seize the day: it was the soundtrack to the YES campaign, to tears of hope - "History is about to be made" - and then to a shattered dream.
Taken cold, the lyrics could seem little more than airy platitudes and literary allusions cleverly strung together, but somehow the song transcends such shrill dissection and instead sounds completely inspiring and positive, in the process quoting "A Shropshire Lad" and amply justifying the sleeve's wry welcome to "the supermodernity of post-neo Close Lobsters". More than just a marvellous record: this was a *statement*.
2. Moevalith "Loophole" (Sick Weird Rough)
Yes! (The rhythm, the rebel…) Forgive us, but it's just… the excitement, isn't it? Not just this record, silly, but the whole hundred… this particular nugget being a rare North American foray from the mighty European mega-label that is SWR, an absolute peak time techno treat from Montreal's industrial techno geezer Moevalith…
hey, come back!
Actually, "Loophole" isn't really industrial at all. On the one hand it's a sparkling slice of visceral & acid-flecked dancefloor-upturning mayhem which induces the usual series of giddy sensations; on the other, Moeva deploys an icy looped undertow halfway down the mix, lending proceedings a strangely glacial air into the bargain. All at 127bpm (we got a bit obsessed with bpm counts this yr, as you will soon tire of noticing). The other tune herein, "Output 3-4", treads similar territory, and is similarly unfuckwithable.
3. Sceptical C "Curfew Neglector" (Darknet)
What they should do, you know, is invent properly skewed dancefloors, for dancing to properly skewed dance music. A kind of clubland equivalent of Huish Park, Underhill or even Twerton Park in its misty prime (some of those second halves, kicking downhill with the wind, are rightly now the stuff of legend).
We initially misread the title as "Curlew Neglector", which tickled us somehow. But in fact this tune from Dutch master Sceptical C on Sydney's Darknet - the label that provided past gems like
Tex-Rec
's "Encoding" and
Michael Schwarz
's "Incarnation" but has otherwise too often flattered to deceive – is nothing to do with sending wading birds to Coventry. Instead, it's a massive, unflinching and slightly unhinged combo of sudden drops and TUNE! klaxons, as C unrelentingly pursues new peaks and plateaus of pitchshifting playfulness in the demesne of underground hard dance. For the DJs (who we know traverse these pages avidly), this flickers around the 127/8 bpm mark.
The other tracks aboard the EP are pretty great too: a "Curfew" remix from
Ortin Cam
, the nine sprightly minutes of "La Resurrecion" (which improves somewhat after some Laughing Policeman-esque samples early doors) and then the brilliant "The Beat Makes You Bop", which does indeed feature a beat, and does indeed make you bop, although being absolute song-title snobs we would have preferred it far more if it was called "Crx-9113_bzzt" or something, which of course it would have been had it been sired by the likes of
Autechre
or
Aphex
.
4. Niereich "Das Testament" (Overdrive)
Those Pitchfork ratings are so imprecise, aren't they? I mean, is that 9.8 a 9.751, or a 9.849? Anyway, this is a 9.897, probably.
Nothing hints at IMPORT more than the German definite article: Das Kapital, Das Boot, Das… um… Katerer, Das… er, EFX...? And Niereich's "Das Testament" is a monster single on Germany's Overdrive Records (a 33rpm 12", hooking the original up with a triple-remix treatment) that positively smoulders with import, as it moulds the clean lines of central European minimal techno into a "Black Mamba"-like crossover confection, investing the whole with the "stop, start, surge" mentality of the most winning London / acid techno from day as it serrates your very consciousness at circa 126bpm.
But the remixes deserve their own para, believe me. My *goodness* they're great. First in the queue is Elektrax head honcho
DJ Hi-Shock,
who ably decorates "Das Testament" with what sounds like a lorry's reversing horn. Turn the disc over and the quality goes seriously off the scale, courtesy of an absolutely stupendous mix from
Mike Humphries
(a couple of Mike's recent tunes happen to sound like they could have come out on Earache's marvellous Sub Bass imprint circa 1992, but this is even better: the acid line is serious ear-candy) and then the closing, none too shabby nine-minute re-jig from Overdrive's own
Sophie Nixdorf
. Plus, although it's not on the vinyl single, there's a bonus re-working from the Netherlands' rising star,
GO!Diva
on ye olde i-Tunes.
5. Cappo "The Boot EP" (Boot)
Ill dusty on the sevens. A regular visitor to our top ten, claiming that ever so prestigious top spot in
'04
and
'08
, the high priest of next-level (always magical, always mystical, but never too fantastical) returns this time round in a hook-up with the mighty beats of
Diversion Tactics
& Boot boys Jazz T and Zygote, spreading those (Imperial) Iron Condor wings to deliver, in the language he's made his own, a quartet of aircraft carrier-heavy 50-bar belters – if padded out somewhat unnecessarily by slivers of retro crime-caper dialogue - and to paint verbal pictures with the flair and dexterity ('Capposthetics') you'd expect from an artist who originally emerged from the graf scene. An overdue but frankly essential collaboration, and, even better, one which must bring our DREAM UKHH battle… yes, Cappo vs the Chubby Alcoholic... one step closer. Oh, and limited to 100 copies on vinyl, which is of course nonsense.
And that's only the half of it. For, as autumn approached, came the "Remixes" EP – the same tracks in the same order, but recast by artists from outside the Boot camp. Indeed, if you preferred the more stripped-down sounds of last year's incredible
Ill Move Sporadic
collabo, you might rate these even more than the originals, and not just because they dispense with the film samples. The great
Chemo
(in his
Telemachus
guise) treats "Yul Brynner" to a light-touch rework before
Mr. Brown
's "Kitted Out" works exquisitely, tethering Caps' dead-on rhymes to a rough, dug-out bassline. Fellow UKHH legend
Jehst
rocks up to reboot "Out Of Your Mind", but this one's a little enervating in truth, its caustic loops a little out-of-sync with the spacier chill of the tracks around it, so it's almost a relief when Sam "Unprogrammable Raw" Zircon restores the equilibrium nicely, drawing out the multiple similes of "Tree Frog" via a laidback trip to the lizard lounge.

Actually, thinking about it, there's a third EP knocking around: the "Instrumentals" have been parcelled up into an mp3 release too, meaning that you can actually get your mitts on three versions of each track here without majorly exerting yourself, plus you can then roam around in front of your bedroom mirror, live-rapping into a hairbrush over 100% authentic Boot beats. If there had only been a fourth EP with the a cappellas (you know, like they always used to do on UKHH 12"s) then we'd probably think we'd died and gone to heaven.
6. Comet Gain "'Sad Love' And Other Short Stories" (Fortuna Pop!)
The latest gem from possibly the finest label ever to grace Islington. Or Streatham. Or wherever it was they lived originally, in those halcyon days of "The Foolishness We Create Through Love".
We occasionally get blowback for being critical of Comet Gain, which can come as quite a shock given the two decades we've spent reiterating how brilliant they are, but we suspect it relates to the fact that - much as we would give our right arm to be part of the Gain's coterie, their team that meets in caffs - we don't feel able to deny that they can, just can, get a bit indulgent / pretentious / ropey on occasion. Happily, there's no such hokum with this year's fabulous LP and the single taken from it, both of which confirm how Comet Gain have become the band that
the Go-Betweens
can sadly no longer be, a gleaming indie-pop-folk combo purveying intelligent, haunting, lyrical wonderment.
And so the blushed-autumn "Sad Love" reinvents the lovelorn gorgeousness of "You Can Hide Your Love Forever" for this cynical decade, and makes us long to leave this clogged city far behind us, to stretch out in fields and gaze at a blueing sky as clouds gently ease across our line of vision. Like many tracks on the LP, "Sad Love" benefits hugely from the wonderful strings of
A Little Orchestra
, and the scales are finally falling from our stubborn eyes as we realise there's no need to turn the tide back to "Orwell Liberty Dance", "Strength" or even "Say Yes!" Comet Gain still have all we need.
7. Cappo & Stealf "Unicron EP" (De Facto Entertainment)
We won't forget Halloween 2014 in a while – basking in unfamiliar sunbathing weather before diving "all back to ours" with that unpronounceable Polish park-bench lager and deeply inhaling this fine quintet of skulking tracks, released that very day by Caps in Gusto Grizwold guise (all to the less-than ambient external soundtrack of youths throwing fireworks around the Marquess Estate, scaring the poor foxes half to death).
This new Caps salvo is the now-usual swaggering beast, Notts' best rhymer twirling his moustache and showing off generally as he dances in wicked freestyle around Stealf's liltingly Americanised backing, epitomised by the blinding 'single' "SM58 Live Rounds" and the Evil Ed remix of it which closes proceedings. "Bobba Fett" is a prodigious opener, too, with the moment the beats kick in ushering in probably our favourite bars on the whole EP. On "Raise The Bar", which rolls with a more traditional hip-hop lyric than his usual out-there / out-of-it ruminations, Cappo even manages to elevate the usual "I'm great" challenge-rap into something more akin to a design for living:
"Stake your claim, make the mark, state your name… raise the bar".
8. Planetary Assault Systems "Future Modular" (Mote Evolver)
Each new year, crushed by the rigours of time and the impossibility of listening to all the music we want to, we get increasingly desperate for all future records ever issued to be terrible, and much as 90% of bands try to help in this noble cause there are still hundreds of singles issued every year that make us laugh and sing and smile and dance and scribble endless reams of notes on post-its and the backs of receipts or whatever else we have to hand when we're enjoying them so.
Thus Luke Slater aka Planetary Assault Systems returns on 12" to deliver this particular package of peak time purity, which alternates bubblingly discombobulated kicks with asteroid belts of shimmering electro acid storms. BPM: the number of squares on two chess boards. Even better, on the other side of the vinyl you get the sylph-like twinkling minimalism of "Serc" and the fabulous (if actually decidedly unriotous) "Riot In Silo 12", both of which are as dark and as mysterious as the Tyne Tunnel. Indeed, something about them (maybe their gracefully arcing sibilance) reminds us of
A New Line (Related)
. If this is the future, we're all up for it.
9. Gold-Bears "For You" (Slumberland)
We had to have a committee meeting about it, you know. Whether we would extend our definition of "singles" from download-onlys branded as such to this new trend for pre-releasing one mp3 track from an upcoming LP, without its own artwork or context. And if it wasn't for how fiiine this song was, we might have sided with our absolutist fantasy – that "For You" should be a solid gold 7" or nothing - and gone the other way.
Um, yes. Much as we enjoyed their Slumberland LP and Cloudberry EP, we never truly expected Gold-Bears to come close to their Magic Marker 7", "Tally" again. But "For You" - with Archie Moore at the controls - is up there for sure, and it paved the way for their excellent "Dalliance" set and all the ingredients that made that great: lyrical plaintiveness + blazing, eyes-bright, glowing guitar fuzz + cascading melodies = 100% sheer joy.
10. Flowdan "Serious Business" EP (Hyperdub)
Is it really five years since "Original Dan"? Well I never. Our past pages have highlighted a few of Roll Deep old boy (and Trim's nemesis) Flowdan's finest adventures in sound: plates like "Skeng", "Jah War", "Ganja" and "Warning" (all in collaboration with
the Bug
, which is of course "the aural equivalent of
mick harford partnering fash the bash up front
"); not to mention his 18-minute 1Xtra soundclash with
Riko
. So it's a blast to have him back.
It's the year of the extended play, in many ways, so in keeping with that theme Flowdan gets to deliver a whole EP for Hyperdub and pleasingly he keeps it fiery, nailing down chafingly harsh verses that a few of the label's fluffily-bearded aficionados might blanche at, given their largely instrumental diet. Whatever Flowdan might lack in technique (at least, compared with some of his most prodigiously dextrous rivals) he surely makes up for with *presence*.
On sort-of title track "People Power", produced by John Fashanu – sorry, by the Bug - he even goes all Wolfie Smith ("Power to the people!") but unlike Wolfie, who ended up in league with Murdoch, this 12" makes damn clear that Flowdan has no intention whatsoever of selling out. Basically, "People Power" is the tune that "Ill Manors" thought it was. But it's not all. The thunderous "Ambush" leads off, hitting hard courtesy of beats from Newham General, Footsie; "No Gyal Tune" pivots on a murderous Masro riddim; and "F About" sees Flowdan take sideswipes at rival musicmakers over more than capable backing from Coki. All ride at a bracing 140bpm, save for "Ambush", which tigerishly encircles its prey at 93.
* * * * *

11. Memory Drawings "Captivated EP" (Hibernate)
I dimly remember reading somewhere (the NME, the Lancet, the Daily Telegraph?) that Memory Drawings' atmospheric, expansive songs were written whilst travelling in pulchritudinous places and designed to be listened to whilst journeying through equally exotic landscapes. It may not therefore be ideal that we tend to hear them either on a crowded Tube, or whilst on the street surrounded by sirens, diesel fumes and blokes stood outside Wetherspoons shouting "Oy Oy". However, the fact we still adore the band is surely the ultimate proof of how resoundingly beguiling their songs actually are.
The first track here is an edit of the kraut-acoustic pastoral "The Island Of The Day Before", one of the perkier numbers from their superb LP (see our albums list!) and its most Declining Winter-ish. Its now-familiar plucked rhythms, seemingly supplemented here by some extra guitar clang, then fade away to usher in the title tune, a new number which features erstwhile Drawings collaborator Yvonne Bruner on vocals (she's the one who sings evocative and powerful lyric versions of three of the album tracks, on the bonus CD that came with that). And "Captivated" really is a find: it's a tremendous, humbling thing, wowing us gently as we look up to see slender branches trembling in these city winds. The third and final contribution is a somewhat subtle, but equally pretty, Charles Zwicky remix of another album standout, "Coldstream". An EP of goodly quality.
12. Robert Hood "Untitled 1 (Mark Broom Edit)" (M-Plant)
Fabulous slice of Detroit techno from Robert Hood, on his own label, with Mark Broom - probably unrelated to longtime D&R star Jason - piloting the remix at a 128bpm, the beat count du jour this year. "Untitled 1" ("Taken From "Moveable Parts Chapter 1", apparently) is quietly spectacular: somehow taut and elegant, yet still as invigorating as a tumble in the griselinia, this is audacious audio that descants drizzlingly fizzing dewdrops into grateful grooves. Or something.
13. Phobia "Grind Core" (Deep Six)
Ha. You already know all you need to know about this 7", don't you? Whilst Phobia's "Unrelenting" EP on Relapse was
the best single of 2010
, the follow-up LP "Remnants of Filth" was rather disappointing yet by comparison. This newie, however, sees the SoCal mob come right back up on the rails, without any shadow of doubt, brandishing eight committed, aggressive, ultra-compact grind vignettes veering between metal and ENT post-crust, ranged over nine somewhat feral minutes. This time around Shane MacLachlan is still assisted by the redoubtable combo of Dorian Rainwater (
Noisear, Kill The Client
and many others, including the desperately underrated
Excruciating Terror
) on guitar, and go-to grindcore drummer Bryan Fajardo (Noisear, Kill The Client,
Gridlink, P.L.F
…)
As you'd expect the lyrics still focus mainly on uncertainty, social division and rage, but there are also specific barbs against environmental blight ("Path Of Destruction") and the animal testing death toll (the excellent "Maimed and Gained"). There's always one especially catchy tune, too, and this time it's "Don't Hate the Pain, Hate the Game". The EP also got a CD release on Willowtip which included the whole of Phobia's earlier "Means of Existence" and "Destroying The Masses" sets, making it a 35-track single (not one of them a ballad). Beats per minute: lots.
14. Ultramantis Black "Ultramantis Black" (Relapse)
No ballads here, either. This surprisingly socially-minded and brilliantly compelling EP from the US professional wrestler(!) and his all-star backing band boasts 9 tracks over 13 minutes, and although it's billed as hardcore we'd put it more at the powerviolence end of the spectrum (fans of
Flyblown
or
Scalplock
might go for it, too). Ultramantis powers out tunes about animal rights, human liberation, environmental catastrophe, big pharma, fracking, the West Siberian plain and (in the exquisitely-named closer "Gloom Of Prosperity") the procession of popular capitalism, alongside a good-old fashioned booklet explaining the ideas behind the lyrics in a little more detail. Given how many years ago Giant Haystacks left the ring, it feels
great
to have a favourite wrestler again.
15. Cortechs "Waste Of Humanity (Remixes)" (Steil)
"Waste of Humanity" began as a B-side but now, like "How Soon Is Now?" has emerged into A-side limelight (of sorts) via a welcome suite of remix EPs. Indeed, as Moz might have it, it's spawned a monster, because Cortechs-bloke has got a whole LP out of it too, a fine record mixing apocalyptic themes with tidy, well-constructed rhythms and in doing so appealing to the head as much as the feet ("cerebral Cortechs", to misquote
Sportique
).
Part 1 of the remixes kicks off with the
A-Brothers
attending to "Waste of Humanity" itself, plus re-workings of "Syntopic" by GO!Diva and "Mitotic Cycle" by Steil boss
Al Zwodezwo
. Part 2 is especially striking as it pairs
Bjorn Torwellen
's eerie take on "Synaptotagmin" with, all the way from Vancouver, a perhaps even spookier
Automatic Message
remix of "Inhibition of Exocytosis". Part 3 (the "Old School" remixes) both ups the game and speeds up the game: you get
GabeeN & Dr Hoffmann
's Repaint of the cracking "COR53", a properly belting
Deh-Noizer & Electrorites
remix of "Syntopic" and then, bringing us full circle,
Thomas Mueller
's somewhat intriguing re-assembly of "Waste of Humanity" itself. Sadly, Part 4, despite offering up two versions of each of "Blood Stain", "Fallin" and "Ecoy", proves a little less memorable.
16. A New Line (Related) "A Roomful Of Lovers" (ANL(R))
A shy and secretive 7" from Mr Johnson on his own label, plus
Miles Whittaker
remix flip, in handsplashed sleeve. Possibly the most ambient single ever to creep into our year-ends, even more than
Jamie Ball
's gorgeous "Love Song": for whilst that had a constant pulse, this is a beatless drone – machine-like, but just as beautiful - which shimmers its way into the inner spirals of your heart without threatening anything near a tune, a hook, or anything else you could grab hold of.
17. The Popguns "Lovejunky" (Matinée Recordings)
Already a signature Popguns tune, we'd say. In the spirit of recycling, we refer you to a few words
here
.
18. Napalm Death "To Go Off And Things" (bandcamp)
The only song released by the Birmingham boys this year was this
Cardiacs
cover version, a
download single
recorded to help raise funds for the recovery of Cardiac Tim Smith, who has sadly been seriously ill for a number of years. Even apart from that this would, honestly, be worth getting: a whirlwind of strangulated speed-metal licks and rollercoaster keyboards, this is simply huge FUN and a must for the tracklist if they ever get round to "Leaders Not Followers Part 3" (and seeing how ND are covering Shane's favourite bands now, we're hopeful there'll be a
Darling Buds
cover on that one too).
Also, mention of Napalm obliges us to link to
one of our all-time favourite match reports
, the opening segment of which contains some home truths about what this band mean to some of those of "my generation". It might be instructive for those of you still not understanding our very real affection for this absolutely tremendous, great British band.

19. Obituary "Visions In My Head" (Relapse)

My i-pod gave up the ghost around the same time my mobile phone broke down (well, okay, drowned: there are rumours it wasn't an accident). I was quickly pretty relaxed about not having a phone but without my i-pod… wow. I was disconsolate, irritable and inconsolable, like LL without his radio. So when the replacement arrived, I needed something pretty heavyweight to kick it into life. And this little ditty proved to be it.

Yep, the true sound of Florida returns, and as usual it makes for top-notch entertainment. "Visions" all twists around a ridiculously simple riff, whilst the bass simply piledrives into the subsoil, and John Tardy is on fine form with his ever-distinctive vocal. Something that sounds suspiciously like an acoustic guitar intrudes towards the end, which I'm sure Scott Burns would have never let happen, but nonetheless it somehow just naturally melds into the whole crushing spirit of the thing.

20. Wu-Tang Clan featuring Nathaniel "Keep Watch" (Wu Music Group)

We remember that moment they first appeared, and it was like discovering nine new favourite uncles at a stroke. We remember eight of them (ODB having recently and sadly departed) tearing the house down in Hammersmith. Well, the essence of why we love WTC remains.

But, you say (cups hand), "this sounds the same as all their other tracks". Well, one man's "this sounds the same as all their other tracks" is another man's "hark, as they ever-subtly refine their already near-perfect artistic vision". And right now, I am that other man.

Meth fires up "Keep Watch" with his best verse in ages, before Inspectah Deck phones his in rather. Luckily, Cappadonna is next – and at his bolshy absolute best – and he hands the baton for the last leg to a detached but ever-intriguing RZA. Yet it's DJ Mathematics' loop that dominates, that oozes class, that betrays the beauty of simplicity, that survives the wine-bar wackness of "Nathaniel"'s dulcet tones as the Clan, hopefully reluctantly, nod to having a chorus of some kind. Beats per minute: the last two digits of the year they released "36 Chambers".

* * * * *
21. LV & Joshua Idehen "Imminent" (Keysound Recordings)
"Man dem get vexed". Obviously.
There's music in this list from Austria, Canada, Chile, the Czech Republic, Denmark, England, Finland, France, Germany, Holland, Hungary, Italy, Japan, Poland, Scotland, Spain, Sweden, Switzerland, Ukraine and the U.S. And that's just the ones we know. But this is one of those tunes that's a bit more local to us.
"Imminent" is an invigorating proto-grime outing (138bpm, natch) reminiscent of a couple of those Planet Mu 12"s from a few years back, as high priests of dubstep and grime commingle to produce music that's just as likely to win props from pogoing whippersnappers who should really be doing their homework as it is from chinstroking oldies like me. Anyway, the gist of it is that Hackney runs from Mile End, in much the same way as Millwall run from Cardiff (allegedly), or, erm, Argyle run from Rovers. Realise. And then take the home end.

22. Ryuji Takeuchi "No Way Out EP" (Brood Audio)

Another excellent extended play from the Japanese, a cut and shunt of three Takeuchi originals with three carefully selected remixes. Opener "Kijk" sees an acid house-style motif wriggling to escape from a deadly swarm of percussive noise, but to no avail, as if "Missing The Moon" were trapped in a coal bunker (on a strictly 2014 tip, there's a touch of Cortechs' "COR53" to it, too). "Necrosis" may be similarly claustrophobic, but it's a different beast, almost seductively repetitive; whilst "Side Effect" is cut more obviously from the fabric of his past greats.

Then come the re-workings of each: Measure Divide deconstructs "Kijk" minus the acid, but plus big booming beats and handclaps and in doing so, halves the bpm to a super-leisurely 65. However, the last two tracks are probably the best on the whole EP: Krenzlin somehow transforms "Necrosis" into a high-magnitude shake-it-down floor-botherer, speeding it from 126 to 132 in the process, meaning that it's Bjorn Torwellen who perhaps sticks closest to the original with his electro-icy interpretation of "Side Effect". Really high quality stuff.
23. Jonathann Cast "In My Red Eyes" (Sick Weird Rough)
24. Michael Lasch "O++" (Electrax Recordings)
These two songs dovetail really nicely on any playlist, so it's fitting to see them share a billing here.

From Lyon, the EBM-oriented J.C. may have been around awhile but with this hit d'été he became the latest debutant at the SWR ball, as well as formally taking up his place in a pantheon of contemporary French musical aceness which also spans Alcest, Blockheads, Vincenn and (possibly) the Wendy Darlings. "Red Eyes" is clinical stuff, anchored by a repeated chime beneath which the music undulates with captivatingly drifting loucheness. Ooh – almost forgot - 125bpm.

Aussie imprint Electrax, like their sublabel Darknet, often seem to net the right artists, just not always their premium product. However, the well-drilled pointillist clank of "O++" gets an A++ from us, sharing the thinning oxygen of the ether with its composer's best works to date, the bpm count hovering enticingly all the while around the 130 mark.
25. ArtGruppe "Objets D'ArtGruppe" (Jigsaw)
ArtGruppe, ex Art Group, are not unrelated to the marvellous MelodieGroup, the crucial connection of course being ex-Windmill Roy Thirlwall, the best thing to come out of Essex since the Kursaal Flyer (NB not the Kursaal Flyers plural: that's a whole different ball game), or at least since David Crown's somewhat fecund spell at Roots Hall.

And, on what's an increasingly tidy-looking Jigsaw roster, "Objets" is a 6-track EP in austere monochrome sleeve which really worms in to your heart, in no small part thanks to Michelle Bappoo's lead vocal, ably abetted by Roy's backing coos (think back to when Morrissey backed Nancy Sinatra). Gloriously understated balladettes like "Naked Winter Trees" are what their former Essex compatriots the Rosslyns were always trying to do in their late period, but couldn't quite pull off.

We're conscious that Mr T himself regards "Objets" as a mini-LP rather than an EP, but we're going to call it a single in order that it can get the full oxygen – nay, avalanche - of publicity that a spot in one of our laboured "best of" lists brings.
26. Boyracer "Pete Shelley EP" (Emotional Response)
Cracking new label, Emotional Response, with a consistent aesthetic and an emphasis on the vinyl single. It's now 4 years since Boyracer seemingly went out tearfully with
a valedictory LP
, "Sunlight Is The Best Antiseptic" and 'official' swansong "The Last Word": but as it turns out, rumours of their demise were much exaggerated and this is a four-track 7" which sees them in rude health. The title track is the clincher, though: a classic Boyracer blast from the heart. Despite the title it's not nostalgic, but about moving on with life and looking forward, and it's 100% positive, pounding, prime 'Racer, all over in a just-right 80 seconds.
27. Edward Scissortongue "Theremin EP" (High Focus)
This nimble seven-tracker is quite a revelation, incredibly poetic hip-hop with expert delivery and thoughtful lyrics as Ed Scissortongue flourishes in the hands of a number of different producers (he's even confident enough to let proceedings start and end with instrumentals). "Theremin" is a showcase for a new(ish) talent which will surely achieve its aim of catapulting him into the UKHH firmament. Whilst the title track (in two parts) is rivetingly stark, penultimate tune "The Calculator" is an even truer tour de force: as bleak as Taskforce, as erudite as Cappo.
28. June Brides "She Seems Quite Free" (Occultation)
They sound, suddenly, so young again:
last single "A January Moon"
was brilliantly tainted by the wisdom of experience, yet the three brass-anchored pop songs here could almost be from their early period, with traces of their then-contemporaries like
Razorcuts
, or
the Church Grims
… right down to having one track written and sung by Simon (or, as we knew him at school, "
the other bloke who does June Brides vocals
"). His tones, just like Phil's are instantly recognisable. To be honest, if it wasn't for the fact that such things get you shot nowadays, we'd be tempted to describe this as the "classic shambling sound", and it's a sound that we at least will never tire of.

29. Mobb Deep "Dirt (Rmx featuring Ghostface Killah)" (Infamous Records)
30. Ghostface Killah & BADBADNOTGOOD featuring Danny Brown "Six Degrees" (Lex Records)
Hello, and welcome to Ghostface corner.
The Mobb really have no right to still be as good now as their "Infamous Mobb Deep" LP this year showed them to be. Havoc and Prodigy, freed from the G-Unit (and, in the former's case, freed from a presumably less embarrassing spell in prison) fought back to do something at least in the spirit, if unsurprisingly unable to match the quality, of their mid-nineties creations. The album would have been even better if it had the Snoop-featuring version of the utterly addictive "Get Down" (which is on the US but not the UK release) and this, the later remix (sorry, "RMX") single of "Dirt" on which our old stag night buddy Ghostface turns up to throw in a crowing third verse.

Meanwhile, this Danny Brown sounds a very excitable chap. Oh yes, and entirely insane. Which makes him a brilliant foil to trade verses with Ghostface on the inconsequential, yet entirely ace, "Six Degrees" single collaboration with eclectically-minded Toronto jazzateers BMG (who were last seen covering "You Made Me Realise" before, presumably, running away cackling).

* * * * *
31. Carcass "Surgical Remission – Surplus Steel" (Nuclear Blast)
We're thinking of commissioning our own Radio One-style jingle for the phrase "it was the year of the EP", so we can repeat it for pretty much every entry. This EP was not however an all-new salvo from the recently rejuvenated Carcass, but a cash-in package of offcuts: out-takes from
last year's album
sessions, including one already-released B-side and a "reprise" of that LP's instrumental intro. At the end of the day though, quality still outs, and any disappointment needs to be tempered by the fact that even rejected Carcass songs are smart, funny and pretty amazing, especially here the DM-influenced blues-rock of "Livestock Market" (which playfully references "Danse Macabre", "Death Disco" and "Slaughterhouse Blues") and "Intensive Battery Brooding".
32. Flowers "Joanna" (Fortuna Pop!)
Less is more. Flowers' sound is sparse, and deceptively simple, but there is something so compelling about their measured songcraft and Rachel's almost choirboy voice, a magic brought out fully by the clear and austere production on this one, and which makes us wish we'd seen them that Saturday lunchtime in the Union Chapel. We're pretty sure we recollect this fetching, affecting number from their London Bridge gig last year, though, and it's pretty special to be reunited with it. No idea why they've written a song about a piano, though.

33. Harold Budd "Remixes" (All Saints Records)

Yikes. This is amazing. Seriously. I'm ashamed to admit that to us, back in the day, legendary avant-garde composer Harold Budd was no more than "the old bloke who did that record with the Cocteau Twins". Now he's even older, presumably, but we're no longer in doubt of his standing, and patten's remix of "Mandan", which leads off this 3-track 12", is simply sublime, with layers that build organically until by the end it sounds like Jamie Vex'd remixing Hood remixing Haiku Salut. There's other fun & frolics to be had here, of course – Odd Nosdam goes all kinda oblique and field-recorded on "Feral", whilst Personable hits us with a 20-minute refix of "Dark Star": but the lead tune is, honestly, enough.
34. Mogwai "Music Industry 3. Fitness Industry 1" (Rock Action)
Interesting one, this. Lead track "Teenage Exorcists" is basically a pretty super, slightly fuzzy, pop record, which is not always what you'd expect from the Lucifer-fearing Mogwai (indeed, we're still surprised by them having vocals). It reminds us a little of when Wire, whose records were generally angular or experimental and lasted either 30 seconds or 10 minutes, would decide occasionally to turn their hands to "pop", and in doing so came out with gems like "Outdoor Miner" or "Map Reference" which ranked amongst the very best that new wave could muster, and which still frankly rank amongst the best pop singles ever produced.
After the shock of "Exorcists", the rest of the EP should prove more comforting, consisting as it does of two carefully-crafted instrumental originals and three high-grade remixes, with the EP's running time clearing the half-hour mark. (All this is also fitting, given that 2014 has been not only the year of the EP, but also quite possibly the year of the remix). In particular, the closing two tracks – Pye Corner Audio's remix of "No Medicine For Regret" and Nils Frahm's version of "The Lord Is Out Of Control" – are absolutely outstanding.
35. Vincenn "Olas Inconvenient EP" (Sick Weird Rough)
As any fule kno, Gaul is divided into three parts. Caen's Vincenn therefore reps for the wide vistas of Celtic Gaul and on fightingly fit standout track "Sincronizacion" (127 bpm) he brusquely lays waste to the idiotic preconception of the man on the Clapham omnibus that European techno is in any way not brilliant. And yes, yer Warp or yer Rephlex or yer Hyperdub remain great, but they can barely touch SWR for hit rate, can they?

36. RVDE "Veslar" (Intellighenzia Electronica)

If this had come out when were in our more footloose and fancy-free first incarnation, the one that better balanced musical comment with other life essentials, like reviewing local pubs, we would probably have put up a photo of them and captioned it "staring at the RVDE boys". We'd then have come up with some witty comment about their beards. Alas, we would only have amused ourselves, and in any case the time for such fripperies has long passed. Instead, we'll observe that third single from the duo, on young Milanese label Intellighenzia Electronica, and hanging out on red vinyl 12", is thankfully much more Pirlo than Balotelli as the boys scoop up some loop synth-layered rhythms and give them a spin around the streets of northern Italy, eventually settling into a rhythm which sounds a little like a pigeon cooing whilst somebody clanks some scaffolding. But in a good way, obviously. 126 beats every sixty seconds, if you were wondering.
37. Baptists "Harm Induction" (Southern Lord)
38. Trap Them "Salted Crypts" (Prosthetic)
Rock music isn't dead: people just think it is, because of the existence of Royal Blood. Or Kings of Leon. Or the Rolling Stones. Luckily, Vancouver's Baptists are on hand to prove them wrong, with a distinctive and exciting racket that charmingly plunders various metal styles and production, but owes a surprising amount to second wave punk/crust influences too, particularly in the vocals. They also take a certain cue from labelmates Nails (not least with Kurt Ballou recording this and the rest of their "Bloodmines" LP), although they're probably slightly less intense/emo than Nails, depending on your prejudices.

Trap Them have always mixed crust, d-beat and hardcore with flailing metallic noise, and so "Salted Crypts", which became the first song on their charmingly-named "Blissfucker" LP, complements "Harm Induction" quite nicely, although it's longer, mixing frazzled punk fragments and crusty riffs with slower, crashing hooks for a slightly more "refined" approach.

39. Frau Anke "Fallstaff" (We Call It Hard)

Now that's a label name. Anke throws the kitchen sink at this one, as "Fallstaff" (sic) alights daintily (OK then, not that daintily) on pretty much every strain of no-nonsense linear techno. Props to the label for releasing it as a super-value £1.79 set, too, which includes straight-up remixes from her compatriot Sebastian Fleischer aka DJoker (half-funky, half-apocalyptic, pretty mischievous), Andrey Volkov (factory floor rhythms), new Luxembourger on the block Nuno Zanga (steady hand on the tiller) and Austrian duo Alex Lemar & Tom Barkley. But, you ask, which mix is the most Falstaffian? A hard call, but it probably has to be Fleischer's.

Beats per minute: Rickie Lambert's appearances in a Bristol Rovers shirt.
40. Squarepusher and Z-Machines "Music For Robots" (Warp)
Jenkinson ex-4B and Sub Zero continues to push the envelope, this time by recruiting a Japanese robot army to play his new compositions for him. And here's the thing: it works remarkably well. You might think that robots were likely to play some kind of super-futuristic genre, like hyper-mega-dubstep-mulch-glitch Sigue Sigue Sputnik covers, but in Squarepusher's capable hands it turns out perhaps unsurprisingly that they play jazz-influenced and largely acoustic little vignettes. The results may sound nothing like "Hard Normal Daddy" or "My Red Hot Car", but they dovetail neatly enough with Pusher's more noodling/doodling free-form repertoire.

You would be hard pushed to know the music was being played robotically at first, although in the self-explanatory "Sad Robots Go Funny" the guitar-playing eventually speeds up sufficiently that you realise it can't be being played by humans, unless maybe Albert Lee is secretly involved. Our favourites from these five concertos, however, are the beautiful centrepiece "Dissolver" and the nr-divine closer "You Endless", surely the most romantic, lump-in-throat inducing ballad ever played solely by machines.

* * * * *

41. Behemoth "Blow Your Trumpets, Gabriel" (New Aeon Musick)
42. Decapitated "The Blasphemous Psalm To The Dummy God Creation" (Nuclear Blast)

The best black metal (or, in this case, blackened death metal) is many things, but one of them is *funny*, and there's no way you can tell me that Behemoth don't actually realise, deep down, quite how entertainingly end-of-the-pier show stuff like this is (albeit that Nergal has found out the hard way that being in a black metal band is no way to establish a rapport with the conservative Catholic Polish establishment, or indeed with conservative Russia).

For us, there's as much Killing Joke and Joy Division in this tune from their "The Satanist" album as there are 'traditional' metal influences: but there's much more besides, not least the way the drummer hurdles off into an absurdly fast proto-grind passage halfway through, overlaid with choral Cradle of Filth-style chimes, before a powerful, string and brass spattered closing coda. This is terrific fun, and if any of you even dare point out that technically the vinyl came out in December 2013, we will be most displeased.

Meanwhile, Nergal's countrymen Decapitated are still going, and clearly have a similarly winning way with song titles. Their 2014 single, "T.B.P.T.T.D.G.C." is faster and rawer than "Gabriel", and less of a novelty; but it never quite manages to fulfil the considerable promise of its opening, high-velocity bars.

43. PRhyme "Courtesy" (PRhyme)
44. Rah Digga "Storm Comin" (A Shady)

The uninspiringly-monikered PRhyme are a celebrity combo: Royce Da 5'9" hooking up with DJ Premier, presumably on the basis that they're both fans of laboured wordplay. Luckily, in the booth the 175cm MC is in sparkling form, encouraged by the entreaties of Premo's accomplished loops and scratches. As old-timers returning to demand respect (and yes, courtesy) this has something of the feel of the Craig G/Marley Marl LP, which is fair enough, and certainly no bad thing.

There's further old-school finery from Rah Digga, whose "Storm Comin" boasts a fabulous Marco Polo production which sort-of riffs on EA Ski's classic "Blast If I Have To". And although we don't really approve of "best female" categories, we probably should make clear that Rah Digga is a good shout for the best female MC right now, as otherwise there's always a risk that you'll believe the Guardian when they tell you it's Nicki Minaj or Iggy Azalea or some such nonsense. This is great, a letter from a mother to a son with a positive feminist message that even features a cameo from none other than Chuck D as "the President". We would LOVE Chuck D to be President (yes, even more than Eric B).

45. Goatwhore "Schadenfreude" (Southern Lord)

I have had indie-poppers (for want of a better word: that sounds a little too much like teenyboppers) mock me for liking bands with names like Wormrot, or Goatwhore. This – this sheer gall – from people who like bands called things like Talulah Gosh, or 14 Iced Bears! Where the focus should be, of course, is on the fact that Wormrot, 14 Iced Bears, Talulah Gosh and Goatwhore are all bloody ACE. "Schadenfreude", a taster for the lads' recent album, is actually quite a shock: instead of the rollicking Southern-tinged BM-meets-Motorhead of their past best, there's a taut, disciplined, harmonic riff here and a touch of either accessible sensibility, or sensible accessibility (we can't quite work out which).

46. Jammer, Toddla T and Danny Weed "I Don't Wanna Hear That" (Ninja Tune)
47. Wiley "On A Level" (Big Dada)
48. Skepta featuring JME "That's Not Me" (Boy Better Know)
Woah there. Somebody just rewound us back to 2004. That's no problem, because these three tunes by veterans of grime's (early) peak seek to take us back, just a little bit, and it's frankly hard to find anything wrong with that.
Jammer is a force of nature, with a personality that comes blazing through on every record, but he needs discipline, and that's what the heavyweight production team provide on "I Don't Wanna Hear That" – in the freshest, most old-school way – whilst J does his normal, fairly irresistible, "house party in the palace of excess" routine.
Wiley's "On A Level" sees him back on Big Dada and some leagues away from the poppier fodder of his biggest hits, as he styles multiple repeat rhymes over eski-beat brinkmanship that wouldn't have been out of place on "Treddin' On Thin Ice", and advises new MCs on the block to keep an eye on their savings.
And the musically very similar "That's Not Me" – which we like to think is Skeppy fronting up to the fact that his ventures into R&B pop and designer clothes were not his wisest career move – even scraped the UK singles chart top 20, showing that not everything in the world of real music (a world to which we rarely venture on these pages, admittedly) has gone to pot. The guest verse from little brother JME is welcome as ever, too.
Oh, these songs may not be grime at its best: but they are, at least, grime. These days, that it is something for which we should be thankful.

49. Hard Left "Safety" (Future Perfect)

On a number of levels this (lathe-cut) 7" really shouldn't work, and I can imagine that some might be uncharitable enough to suggest it probably doesn't work, but the fact that this song has been rocketing endlessly around our little heads for several months tells us it's a monster. Positively daring comparisons with ironic darlings Hard Skin, HL are a shouty combo in fact comprised of emigrés from some other established indie-pop combos (by way of partial clue, we'd suggest that you might like this if you enjoyed Lögnhalsmottagningen, Manatee's "Single Payer Class War" or late, clattery-drum period Boyracer). They will also appeal to those of you who recognise that musically, there wasn't always *such* a huge difference between the raw Celtic punk of say, early SLF and the raw Celtic punk of any-period Exploited. There's a Rich Kids cover version on the flip, which doesn't happen every day, but does remind us how Midge came a long way in a short time from "Forever And Ever"…

50. The Haywains "It's Time We Stopped Pretending" (Cloudberry)

Pretence, of course, being one thing that the Haywains never had. What they do still have, however, is *bags* of charm. This is vintage indie-pop from Midsomer Norton's finest, whose 20-year absence has not seemingly changed their sound in any way, shape or form (and having seen them shake down the Thunderbolt in Bristol last year, we're not inclined to complain about that). The bright 'n breezy "It's Time We Stopped Pretending" accordingly presses all the right buttons, the lyric even linking back to their finest '90s moment, "Bythesea Road".

* * * * *
51. Death Toll 80K / Sete Star Sept "Abolish Fur Farms" / "Dedicate The Death" (B.O.G.)

Although Japanese grindnoise duo Sete Star Sept do their thing with admirable purpose on one side of the vinyl, on this split single they can't help but be blown away by our Finnish friends: I think we all know it's really about DT80K here. Their eight turbulent tracks on this Belgian-released 7" (532 copies, intriguingly) spit out titles like "Abolish Fur Farms", "Homophobia" and "Worship Of Success" and sound pretty much as (great as) you would expect them to sound, three years now after our eyes were opened to their blistering wonderfulness thanks to their "Harsh Realities" set. The production values seem to have dropped a tad since then, mind.
52. Datassette "Cagney XOR Lacey" (Apollo)

As you can tell we've done a fair bit of rooting around in noodling electronica this year, trying to fight our base instincts and remind ourselves that just because some of its adherents are Dalston hipster loons, that shouldn't stop us liking it when it's good. And once you block out the Dalstonites and burrow beneath the grooves, "Cagney XOR Lacey" doesn't stop giving: it's precise and mathematical on one hand, but organic and expansive on the other, like Starkey channelling Burial.

53. Haymaker "Let Them Rot" (A389)

For my tenth birthday, I got 10 packs of football stickers, and I was absolutely delighted. But A389 – the Baltimore record label, not the road from Padstow to Bodmin - have done even better, because for their 10th birthday they got a storming comeback EP from the aptly-named Haymaker, which must give even 50 Panini '82s a run for their money. The title ditty, resplendent in that classic tough-guy NYHC vocal style that sounds like a singer trying to do a full Olympic lift (or me trying to get the lid off a jar of marmalade) is an especially great way to spend a minute or so, even before the track finishes with a joy-giving breakdown.

54. Joell Ortiz "House Slippers" (Penalty Entertainment)

'Orteez' is rapidly nearing "favourite pretend uncle" territory, or perhaps even the highest accolade for any rapper, namely a place in our increasingly New Yorker-dominated and bling-encrusted Subbuteo first XI. Here, like any favourite uncle, JO luxuriates in finally getting to don his slippers and rest his weary toes, whilst relating a compelling and honest tale of his recent ups and downs and (as reflected in many a post-C86 memoir) his unhappy entanglement with indie labels.

55. SHXCXCHCXSH "VVVLLLLVVV" (Avian)

These *are* all real records, you know. Don't get us wrong – we've toyed many a time with the idea of coming up with a top 100 made up of entirely imaginary records, and if we threw in Cappo, some grindcore and something on Matinée to give it a sheen of authenticity you'd probably never clock it – but every single record on this list actually exists.

Swedish mysteries SHXCXCHCXSH, unlike many of our European techno favourites, have achieved a certain crossover into some (admittedly obscure) corners of the UK fan scene, and the classically palindromic "VVVLLLLVVV" combines forbidding techno with a simple, repeated ascending sequence of notes, as if Moevalith and Sleeparchive were huddled together around a Trangia stove on a particularly bleak night. The other tracks on the 12" are called "MRRRWRRRDS" and "MRRRCHNNNN", to help you get the picture. BPM: five score and two dozen.

56. Literature "The English Softhearts" (Slumberland)

This is… how the Drums wish they sounded? How the Pains of Being Pure at Heart probably should sound these days? How the Airfields would hopefully sound, had they not seemingly and very wrongly disappeared from the radar? Like the Wake's pacier earlier tunes with a splash of Smithsian shimmy? Whatever it is, fit & feisty Philly folk Literature pull a rabbit from the hat with this sparky and sparkly keyboard-swarmed slice of rollicking, rolling, ravishing indie-pop.

57. The Fireworks "Getting Nowhere Fast" (FreakScene)

'Postcard playable as flexi' CLEARLY equals "single", so we never ran this one through committee. An amazing artefact, too: major props to the Freak Scene crew. If only *every* single was a one-song, two-minute long flexi: life would be so much easier without all these 6-track EPs, or ten-minute techno flights of fancy that eke out so much of our remaining one score years (and ten).

Now, like many a child of the C86 era, we heard the WP's versions of the likes of "Getting Nowhere Fast" and "Felicity" long before we ever got our ears around the originals, meaning that we are destined to go through our whole lives finding those snail's pace-slow… even Gang of Four's "I Found That Essence Rare" sounded leaden by comparison when we first tracked it down. The Fireworks' canter through it strikes a balance, standing as a rather great mid-point between the insouciant, somewhat andante Girls At Our Best original and the somewhat hell-for-leather recasting of it by what is still the Wedding Present's classic line up (Charman / Solowka / Gregory / Gedge).

58. Doctor Zygote "Zoot Dubs 1" (Zoot)
59. Telemachus "Locust" (YNR)
As well as seemingly acquiring a doctorate, the Z has unleashed a couple of major, truly sizzling instrumental singles this year. The Dubs 7" sees him echo and clatter his way through "Smack Dub" and "Dxm Dub" – the first has simply MASSIVE drums that make it sound like that last Scorn EP, whilst the latter devotes more attention to bass and piano motifs. His later mp3 single "36" went for something different again, with a sultrier, piano-led and Eastern-tinged feel. However, it's Telemachus' excellent "Locust" that really takes the 'eastern-tinged' prize, with its fabulous fusion (dread word, I know, but this is honestly worth hearing) of Moroccan melodies and UKHH production bite, as he gets his second mention in our 2014 dispatches.

60. MGUN "Resin" (Don't Be Afraid)
Detroit's Manuel Gonzalez (so MGON, surely?) brews a bubbling broth of warmingly full-on geekery here. It's rare to find a 6-track EP that keeps up such a consistent standard: after the 555-ish abstractions of "Asssumptions" and the repetitious bringing-da-funk "Junktion", MGUN rolls out the skittering, borderline-certifiable "Migraine", calms us down with the wow and flutter of "Flutter", casually unveils perhaps the highpoint "In The Road" and finishes with the loungin', Caipirinha by the poolside "90 Sumtin'".

* * * * *
61. DMX Krew "A New Life" (Central Processing Unit)
250 12"s, on the 1s and 0s, for Sheffield's CPU imprint. DMX Krew (actually aka Ed Upton) is one of those outfits (you know, like
Super Sunny Summer
, or Goatwhore) whose name gives the game away, pretty much, as to what they sound like. No bad thing, for these are bright, poppy, subtly acid and funk-flecked retro-electro instrumentals, in the spirit of
Mantronix
and the old school, that do indeed take you back to days when we had things like ZX Spectrums, Tory wets, body-popping, and "krew" spelt with a "k". By rights, the limited palette adopted by the Krew should yield limited artistic results, but in fact the EP takes us on an extremely scenic journey as it develops, not just one prompting many a head-nod or a foot-tap, but towards the end even tugging a few emotions.
62. Onyx "Wakedafucup" (can't remember the label)
You may well say Onyx aren't relevant now, and there might even be a good argument that they never really were (even in their greatest days, marshalled by the wondrous Jam Master Jay, did they ever produce a "Triumph"? a "You Know My Steez"? a "Shook Ones"? That question is RHETORICAL) but then they were the punk-rock arm of NY hip-hop, never as cerebral as the Wu, or as rooted in the classics as Guru and Premier, or quite as atmospheric as the Mobb at their peak, and anyway we remember those cold, dark days after the demise of Sarah and before the new wave martialled by the likes of Matinée, and Onyx warmed our cockles in those times, made us feel alive and unbowed and great, helped to counter the long shadow of utterly useless Britpop. And
we saw them
in 2010 and they (punk) rocked, still.
And amongst the best tracks on this year's "#Wakedafucup" LP (a collaboration with German production unit Snowgoons) was this title tune, which features the rasping Sticky and the ever-compelling Fred Scruggs, as well as a cosmopolitan cameo from Dutch rappers
D.O.D.
, who even have the good grace to apologise for going a bit off-topic mid-flow.

63. Mintech "Confused" (Dolma Records)
64. Kata Mercado "Blue Line" (Darknet)
65. Oscar Mulero "Electric Storm" (PoleGroup)

So Italy, then. Worked hard to beat England, but looked under pressure at times. Were then comprehensively outplayed by Costa Rica. Then managed to lose to Uruguay in the war of Chiellini's neck and slink back home to the airport, almost '66-style. After the false dawn of making the 2012 final, it's no wonder Mintech is confused, some might say, but luckily this pre-Brasil '14 single sees him go sleek and long, deploying a curvy, low bassline which snakes around the room at 126. Single support includes, amongst others, an excellent version from AKA Carl which nimbly upgrades the track to the big room: it's one of our favourite remixes of the year.
Elsewhere in the club, "Blue Line" is a long-awaited own-right A-side from Kata Mercado, and a thumping one too, @130: whilst on a slightly different tip, "Electric Storm" is aptly-titled frenetic fun from Madrid's Oscar Mulero, who tickles the high-end and ups the treble to whip up a tetchy, insistent pitter-patter alongside a much deeper, appropriately weatherbeaten groove. At an iconoclastic 129 bpm.
66. Gayle San "S.E.A.L." (GSR)
On lead track "Navy Seal" the Blastic Wifester rains down chunky, ribbed techno at 126bpm for the discerning dancefloor ("Seal"-clubbing, if you like) that deposits splashtastic puddles of groove on funk-soaked doorsteps. Actually, I'm not quite sure I could bring myself to say that I prefer this to "Blastic Wifester", but luckily there's no law saying that I have to, and if there was such a law then frankly I'd love to see someone try and enforce it, at which point no doubt good old Hans Kelsen would rock up and tell us that without effective sanction it's not a law at all, and then we'd be right back where we started. TUNE.
67. Godflesh "Decline And Fall EP" (Avalanche)
After Rowling and Galbraith, Broadrick is surely the mightiest JK bestriding the public consciousness. And his industrial behemoth Godflesh (aka, somewhat unfairly, JK and The Other Guy) return in fine growling fettle with a bleak, black EP that consists of tarnishing,
Swans
-ish industrial grind with metal-laced riffs and clanking, all the while channelling with the lust for noise of
MBV
, the hangdog repetition of
Loop
, the abrasive guitars of early
A Witness
, and the rampaging grandeur of
Slab!
I don't think any of us would have it any other way now, would we?
68. Public Enemy "Get Up Stand Up - The Prequel To the Remixtape Series" (SPITdigital / Enemy Records)
Yes, it's "Get Up Stand Up" from "Most Of My Heroes", (as we noted in our
PE / Talulah Gosh love-in
, GUSU sees
"Chuck and Brother Ali deliver brilliant, angry verses bemoaning how hip-hop's optimism and storytelling has been usurped by blood diamonds, bad role models and avarice, while the music fair simmers with 60s/70s-tinged revolutionary fervour"
), now recalibrated in EP form thanks to a series of fan remixes via BitTorrent. The results are better than you might expect (and "harder than you think", of course) but the
Counter Intelligence
mix is worth the purchase all by itself: revelling in mercilessly skewed, almost V/Vm passages, yet threading in Chuck D and Brother Ali quite naturally, it makes P.E. sound as vital as ever.
69. Wolfhounds "Anthem" (OddBox)

Despite generally holding the Wolfhounds on a Shard-high pedestal, we didn't fancy this much on first listen, but the reloads reeled us in soon enough, even if it's proved impossible for it to match last year's piledriving triumph, "Divide & Fall". Also worth getting for the way that the angrily Fall-esque "Middle Aged Freak" stomps around the flipside with biting glee ("fuck off Grandad!" yells Callahan, perhaps unconsciously updating Chas & Dave's "Margate").

70. Oliver Kucera, Kata Mercado, Cindy "Sart.02" (Sueno Artifical)

Mysterious techno newcomer Cindy has already displayed a penchant for somewhat off-the-wall song titles, but even by those standards her contribution to this EP - "In A Perfect World She Kills Marine Le Pen And Nigel Farage" - is a bit of a mouthful. The tune itself is unsurprisingly frantic, at 136bpm even a little too fevered, but we'd certainly like it to be a soundtrack to some kind of major-league torment for Farage – perhaps it could be played on endless loop as Nige is forced to live next door to Romanians, whilst EU bureaucrats tear up his expenses claims and Alan Sked pulls faces at him. As well as Cindy's admirable dream, we get Chilean-Croatian Kata Mercado (a recent Sven Wittekind associate) conjuring up the tribally-fused techno of "Cause Effect", and the slinky, sylph-like Dutch-style techno "13" from Czech expat Kucera.

* * * * *
71. Peverelist "On & On" (Idle Hands)
In Bristol with a pistol, Pev shows how Prince William and many a trust fund kid's genre of choice (dubstep, yah) continues to evolve, with a pleasingly wilful disregard for transient fashions. There's a definite techno influence to this released-without fanfare 12", but this is still all about sub-bass that booms like Basil Brush, and endlessly snaking rhythms that make me wish my hips were so much nimbler than a half-lifetime of veggie fry-ups now dictate.
72. The Charlie Tipper Experiment "Ride Out" (Breaking Down)
In Bristol with a revolver. Having compared some of singer and guitarist Tim's previous bands to the likes of the Go-Betweens and
Galaxie 500
we shouldn't be entirely surprised that this first outing from this new trio reminded us of the trippily addictive Luna, Dean Wareham's poppier, postmodern post-Galaxie outfit, as its woozy melodic jetstreams dreamily sail along.
73. Dean Wareham "The Dancer Disappears" (Sonic Cathedral)
And speaking of Dean, "The Dancer Disappears" was one of the tunes that Dean
delivered with bashful style
at the Islington Assembly Hall earlier in the year, and it's Dean at his most Sarah Records-esque, as winsome as they come. In a really, really, good way.
74. Dub Sex "Over & Over" (O Genesis)
These beasts from the barren wastelands of post-industrial Manchester RETURN to show us how it's done, courtesy of these two unreleased tracks from their late 1980s heyday on Tim
"Tim off of the Charlatans"
Burgess' O Genesis label. With sounds bringing to mind the greatest northwest titans (the Fall, the Bunnymen, the Division), a vocalist who sounds like he's chewing a carcass and lyrics that absolutely cut to the heart of desperate people, trying to make sense of an unforgiving world, this is mighty.
75. The Drip "A Presentation of Gruesome Poetics" (Relapse)
Yeah, on Powerpoint no doubt, maybe with some clip art. Seriously, this is a terrible EP title. A terrible band name. And it's not ideal that the label see fit to compare the Washington State newcomers to Wormrot or
Insect Warfare
, as that's not really the kind of racket they're making – this lacks the humour and the sheer concrete walls of riffage that made those bands so great.
Yet yet yet. Rooting around in the wardrobe for our objective hat, this record is nevertheless an impressive debut, an amalgam of
Rotten Sound
or Nails' takes on the original Napalm Death spirit that claws at walls and spits 360-degree vitriol but just takes a few listens – unlike, we think, Wormrot or Insect Warfare – to get under your skin. The quality of the six tunes on offer undulates a bit, but "Rise To Failure" (great title) and "Siren" (which recycles a classic Napalm riff) may be up there with the best of the current worldwide grindcore harvest, whilst "Lash In, Lash Out" boasts some rolling Rotten Sound-ish hooks.
76. Michael Schwarz "Hiobs" (Sick Weird Rough)
Like Cappo's hook-up with Diversion Tactics, or Shane Embury's combo with Mark E. Smith on that
Mutation
LP, every blue moon there comes a time for a clash of the ilwtt,isott titans, and the latest such time became late '14 when the great German black techno producer Michael Schwarz arrived on fellow countryman Sven
"Yes, *the* Sven Wittekind"
Wittekind's Sick Weird Rough label.
Our thus-inflated expectations therefore mean that "Hiobs" presents a sense of disappointment, merely being a perfectly pleasant stroll down Teutonic techno's leafier byways, with only occasional hints of brilliance (like a Razorcuts B-side or something). A disappointment later confounded by Mike's relatively lacklustre contribution to volume 4 of the Cortechs remix EPs. Luckily though, "Hiobs"' own B-side, "Restive" is much more like the real deal, with the bass bringing to mind Moevalith's towering infernos of, er, bass.
77. Aphex Twin "minipops 67 (source field mix)" (Warp)
A better title than "The Beats Make You Bop", yes? And another beneficiary of our new "Gold-Bears" rule. Actually, "minipops 67" would never make you bop, but it might make you wiggle and wobble involuntarily to its gurgling interrhythms. The term "electronica" gets bandied around less now, but what the hell: this is vintage electronica, a genre it's easy to sound good in, if still very hard to sound great in. Even if one feels the world has moved on a bit, there's little here not to like.
78. Newham Generals "Piff" (Dirtee Stank)
Gently stoned and deranged grime that perks up for a crossover chorus before spinning back into the east London gutter. Singlehandedly keeping grime alive, the Generals still patrol the Newham borders, this time veering all over the place in the verse, blown-off course by reams of smoke and herb, but staying tightly-marshalled for an R&B-tinged chorus. The course they've charted whilst on Dizzee's label, from "Generally Speaking" through to "I'm A General" and "Darren and Dan" and this, withstands any of their remaining challengers.
79. Myrkur "Nattens Barn" (Relapse)
To our slight surprise, this single from the mysterious Dane is really rather good. The first minute is purely choral, beautifully dovetailing strands of female vocal. The black metal riffs then kick in, with the drumming entering random blastbeat phases, and the song turns into a melodic metallic marvel (think
Alcest,
before they started wearing cardigans), briefly deploying some punkier chords before a certain serenity resumes. And the haters who insist that black metal can have nothing to do with indie-pop are hereby PWNED, because it turns out that Myrkur moonlights in indie-ish-popsters
Ex Cops
, too.
80. Kate Tempest "The Beigeness" (Big Dada)
Hey, look at us repping Kate Tempest - pretty trendy, huh? In a "Radio 4 listener" kind of way. But actually, despite her being hyped and properly produced and interviewed on the Today programme and everything, this is accomplished stuff, a clever lyric and pretty gr8 delivery to bring back fond memories of both
Estelle
and
Lady Sov
in the days we gave them much love, and p'raps too the cerebral flow of
Lewis Parker
. Indeed, the long-playing disc "Everybody Down" from which this comes is probably what
Speech Debelle
's Mercury-grabbing album ought to have been.
* * * * *
81. Rumbull featuring Manage "Pulse Of A Rebel" (Rumbull Records)
SE Londoner and "Rise Up" merchant Mr Manage is back, this time ably assisting Portsmouth's Rumbull, and this tune – nattily produced, earnest, and free of pointless hooks or pointless guests - is a reminder that UKHH still has its moments, even when Cappo or the Boot crew aren't seemingly involved. We'd happily have devoured this from the 12" racks in Soho a decade ago, when this kind of stuff felt more like two a'penny. Rowche Rumbull, anyone?
82. Ice Cube "Sic Them Youngings On 'Em" (Lench Mob Productions)
83. J-Bux and Big Noyd "Mobb Niggaz" (some label)
"Sic Them Youngings On 'Em" is Cube's best single for years, and although it's true that the sound of his answer phone message, or his car alarm going off, would also have been his best single for years, it's a powerful and stomping, almost garagey beast which ends up being fearfully addictive. Despite
officially
being a fellow member of Westside Connection, I have literally no idea what the title means.
As for "Mobb Niggaz", well it's an unpromisingly unoriginal title - which at least keeps the backpackers away we s'pose - but D'Alma and I are *on this* like gin & juice as, in our tiny minds, we cruise round a Queensbridge panorama with reliable old stager Noyd and New Jersey's most rasping MC, J-Bux (not to be confused with the South African MC of the same name).
84. M.O.P. "187", "Broad Daylight" (Nature Sound, possibly)
More escapees from G-Unit! The piano hook on this otherwise boom-bap single sounds like the peal of village church bells, making this one of those rare records which should appeal to both English country campanologists and East Coast rap veterans, thanks to the production skillz of Fizzy Womack (great name for an indie-pop band right there). On the mic, though, Billy Danze and Lil' Fame are in typically uncompromising form. As befits graduates of the Gang Starr Foundation, there are guest scratches from DJ Premier too. Lyrically, "187" is a variation on the whole "Onyx at the Source Awards" type theme, giving both barrels to the red carpet hip-hop / R&B "establishment", which makes it hard to take issue with the sentiment either.
"Broad Daylight" is billed as "187 (Part Two)" but you wouldn't immediately know it: the bells are gone, the sound is stripped down and none other than
Busta Rhymes
(last regularly heard on our stereo in the era of "Turn It Up / Fire It Up") going loco on vocal duties. Nevertheless, it's another heavy-duty track which shows that M.O.P. aren't yet one to cross off your list.
85. When Nalda Became Punk "Indiepop Or Whatever EP" (Shelflife)
Judging by some of the derivative stuff being parcelled up as 'indiepop' these days we'd often roll with "whatever", but Vigo's When Nalda Became Punk present a great antidote with this infectious, bubbling 4-tracker which rolls back and forth along the
Zipper-Strawberry Story
axis in our mind whilst taking in a pleasurable amounts of influence from UK and US 90s' fuzz-pop. The words are about loving great indie-pop whilst also enjoying more mainstreamy product, hence the sleeve showing Le Jardin de Heavenly along with some, y'know, less good stuff.
86. Iron Reagan "Miserable Failure" (Relapse)
Let's face it, there's a tendency for side-projects to end up sounding only marginally different from the "main band": possibly epitomised by Peter Hook's
Revenge
. The brilliantly-named Iron Reagan self-describe as a hardcore band but in reality they are really a HC-influenced take on the playful thrash of their "parent" band,
Municipal Waste
: they manage to get through a whole verse without outing themselves, but as soon as they reach to the chorus they're so excited they just can't help themselves, and start to THRASH. Aaaah. Not that there's anything wrong with having an HC-tinged Municipal Waste, as this single shows: "Miserable Failure" is likeably punchy and fractious, and would probably be widely hailed if released by
Cerebral Ballzy
.
87. White Town "I Wanna Be Your Ex" (Bzangy Groink)
White Town will always have a place in our hearts, but although we liked their Chrysalis singles "Your Woman" and "Undressed" (with their rather contrasting chart positions!) it's some of their really early songs, particularly the brilliant "White Town" 7", that touch us most. And, just to be clear, "I Wanna Be Your Ex", a compact electro-bouncer about society's narrow conception of relationships, sounds nothing at all like that single. However, in an age when all sorts of chancers on both sides of the Atlantic are knocking up tame retro-80s mush that sounds like it's been built from Lego, this neat little single shows exactly how a tongue-in-cheek 80s tribute should be done, putting a contemporary spin on the retro synth sound AND retaining the human factor that the ironists do their best to, um, iron out. We'll always buy his records and it doesn't matter that they can be hit and miss: Jyoti, we'll always have "We'll Always Have Paris".
88. Sidetracked "Abandon" (bandcamp)
With "Wrench" the until-then peerless Sidetracked decided to hurtle down a cul-de-sac marked "unproduced", sadly turning their tunes from compact vignettes of diamond-like clarity to indulgently curt ear-taunting shrieks. Luckily, the idea of "Abandon" seems to be making this new-found "sound" easier on said ears by limiting the track lengths somewhat brutally: nothing on this five-tracker exceeds 8 seconds, creating an unsurprising unity of purpose. Use sparingly.
89. Jackdaw With Crowbar "Solar Solace" (100% Ape)
If truth be told, we desperately wanted this 12" to be the best record of the year, marking as it does the comeback of one of the UK's greatest ever left-field combos. As it is, "Solar Solace" is perfectly spiky and enjoyable, but just pales somewhat in the light of the recent
Stump
reissue, for example (or, indeed, by reference to JwC's own EPs for Ron Johnson). A warm welcome back, nevertheless: and we look forward to hearing more.
90. Deh-Noizer & Electrorites "Judas Cradle" (Nightmare Factory)
Lively, thrilling all-Italian single from Deh-Noizer, the architect of
"Unconscious Reactions"
, and Pordenone's favourite son (oh OK, but he should be), Electrorites. The pair were last seen, of course, contributing a towering remix to one of those Cortechs EPs. Anyway, "J.C." simply fizzes, with all the electric crackle of the former's "Charged". Beats per minute count: the seventh power of 2.
* * * * *
91. Yan Cook "Berg EP" (ON Records)
When the never-really-to-be-adequately-replaced Pete Solowka inspired the Wedding Present into their Ukrainian side project, I didn't even know where Ukraine was on a map. It wasn't even an independent country then. Now, of course, not only are Ukraine's increasingly permeable borders a regular fixture on news reports, but Ukrainian music has ventured reasonably frequently into our year-end charts and hearts, thanks to the likes of
Eigenes Rezept, Odessa Soundfreaks, CatRoll
and the much-missed Toyfriend stable…
Anyway, Yan Cook is the latest to reach our ears, via the Netherlands and
Jeff Rushin
's ON Records, and on "Berg" (joining our roll-call of song titles which are also footballers' names – see the ESG reference in
here
) Mr Cook makes it nice and keeps it nice over tidy slugs of baize-smooth electronics. It's a little like a combo of
Nicole Rosie
's "Foxboy" and
Jamie Ball as Action Bastard
's "Love Song". It also proves, after Jeff's "Infiltrate" single and last year's superb "Red Velvet", that ON are a label to keep a weather eye out for.
92. Soulkast "French Touch" (Alariana/Offshoot)
As some of you will know, we have a longtime penchant for French hip-hop, not least as we were lucky enough to be living out there around the time of the likes of "La Haine" and "Ma 6-T Va Crack-Er" and their equally smashing soundtracks. It's forever struck us as odd though that French hip-hop seems to have sonically trailed its commercial US equivalent rather more faithfully than the UK branch, and this has unfortunately meant that our most recent ventures into "'ip-'op francais" have left us pretty underwhelmed.
"French Touch" is slightly different, thankfully - not a work of genius, but enough to cheer us up for now, especially as Soulkast has managed to enlist the venerable DJ Premier for production duties (one of the few American DJs, as the PRhyme and M.O.P. singles show, who is still capable of bringing some proper hip-hop to the party).
93. MNMLX "Nuclear Power" (Naughty Pills)
"Yes please!"
(that's an "I Am A Wallet" reference, not a Happy Mondays one, despite the label name). MNMLX makes music that's just as much a mouthful of his moniker, this industrial tech-clanker sounding not unlike a well-conducted foundry. "Nuclear Power" is magnificently brooding: if it was a mammal with a malady, it would definitely be a bear with a sore head. There's also a remix from those RVDE boys floating around somewhere. Beats per minute: CXXIV.
94. Boyracer / American Culture split (Emotional Response)
When we first clocked ears on Boyracer all those years ago, we would hardly have imagined that we would end up making such an emotional investment in their records deep into the next century. Yet their two songs here, "Don't Be Scared" and "Everyone's A Critic", are still seeing them pile on noise-laced melody with aplomb. Meanwhile, over on the other side of the platter, American Culture sound much more muscular and driving than we were expecting from ex-
Love Letter Band
types, but "Actual Alien" is astounding until the vocal comes in, and still pretty good from thereon in.
95. Ronny Vergara "Emancipation" (Electrax)
One of the few electronic music stalwarts whose surname rhymes *precisely* with a legendary ex-Stockport County manager. This is easy-to-like, hardcore-tinged techno at a solid 128 from Switzerland's finest and surely hardest-working DJ, who by our reckoning clocked up at least 8 EPs and half a dozen remixes in the calendar year. Possibly about 20% wine bar, although less so when DJ Rush and Mike Humphries get busy on the remix tip.

96. Niereich "Modular Cell" (Elektrax Recordings)
97. Niereich "Normalized Frequency" (Illegal Alien)
98. Niereich "Non-Existent Patricia" (De-Konstrukt)
99. Niereich and A-Brothers "Trinity Test (Remixed)" (Audio Stimulation)
100. Niereich and A-Brothers "Trinity Test Remixes, Volume 2" (Hybrid Confusion)
We could easily have had a top 100 consisting solely of German and Austrian techno, and maybe one year it'll happen. It would certainly have been a pretty good top 100. Indeed, we could have had a more than respectable top 10 singles list consisting only of Niereich EPs (Factory and Sarah diehards like us will be warmed by the fact that only one track from all of those – "Drehmoment" - made it on to his 2014 album, and even then it was in a different version). Anyway, conveniently enough, here are a few more – a representative sample, if you like - of our favourite Niereich releases this yr that weren't "Das Testament".
Elektrax outing "Modular Cell" is probably just about the sweetest thing in this particular bundle of instrumental joy, although "Non-Existent Patricia" has one of the best titles of the year (only pushed into second place by Cindy's contribution to #70 above): we'd like to think it's a reference to Patricia Brake's under-deployment in "Porridge" (happily remedied by her starring role in "Going Straight").
However, for sheer volume you need to tip your hat to "Trinity Test (Remixed"), a collection of re-workings of a three year old track that Niereich cooked up with Italian duo A-Brothers on his "Friends" EP: unsurprisingly themed around the nuclear tests of the same name, and with a few suitable "countdown" / "explosion" sound effects, it leads off with a Sven Wittekind remix (in a year when Sven barely released a thing), before wheeling out further versions from the UK's own
Space DJz
as well as
Mike Ban & Dietmar Wohl, Klaudia Gawlas, Luix Spectrum, Hiab
and
Alex Fader
. Oh, and by virtue of volume 2, which we think only came out last week, there are now extra mixes galore, from Niereich himself (with Hackler & Kuch),
Albert Kraner, Sven Schaller
, Chicago's
Ttinga
and
Luis G & Mind Fuel
(whew).
* * * * *
Bubbling under: Oh, a mad amount of stuff, stuff like
88 uw, Secret Shine
(probably),
Go!Diva, Liss C, Fliptrix, Guidewire, the Vaselines, AZ, MC Ren, At The Gates, The Haunted, Ricardo Garduno, Niereich
again,
Moevalith
again,
Alan Fitzpatrick
's "Truant" (the spouse caustically observed that this was wine bar music too, to which my response was "
perhaps, but what a wine bar
"),
Ross Alexander
, the
Dropdead / Brainoil
split, F
orest People featuring Light Minded, Pinch & Mumdance,
Obituary again, Mobb Deep again, Mobb Deep again again, that
KRS-One
"Big Up New York" remix,
Body Count, Tex-Rec,
Ryuji Takeuchi again,
Sadat X featuring Cormega,
some bloke called
Morrissey, Cari Lekenbusch, Spiros Kaloumenos, Niereich & Hackler & Kuch
(again),
Heist & Pleasure, Darren Hayman & Emma Kupa, the Pains Of Being Pure At Heart, DJ Honda featuring Infamous Mobb, the Primitives, Luxembourg Signal, Revocation, Wretched, Mark Morris, Scorcher, Strange U,
Hard Left again, Newham Generals again,
Meridian Dan
, Doctor Zygote again…
* * * * *
The list above was assembled in the Hops & Glory, the Alma and the Hunter S (aka the "bizarre pub triangle"), the Lord Clyde, the Edinburgh Cellars, the Compton Arms, the Hen & Chickens, the Famous Cock, the Alwyne Castle, the Hope & Anchor, the Angel, the Peasant and - this morning (shhh) - the White Swan. It made us realise quite how much we're indebted to every single artist and label above, and their songs that helped take our mind off Rovers' further descent down the divisions this year (a slide we're now officially soundtracking with regular doses of Mahler's Adagios, which almost feel like they were written for the journey).
There's no way you could ever enjoy reading this list even half as much as we enjoyed making it, but nevertheless, our sincere thanks for reading it at all, and goodnight.